BREAKING: Peter Obi Knows That He Can't And Won't Win, Soludo Reveals
BREAKING: Peter Obi knows that he can't and won't win, Soludo has revealed.
News ToGo reports that Peter Obi is a frontline contender for President of Nigeria in the 2023 presidential election. He is the presidential candidate of the Labour Party, LP.
However, the Anambra State Governor, Chukwuma Soludo on Monday tackled Peter Obi, in a lengthy opinion piece.
The former Central Bank of Nigeria Governor said Obi knows he cannot win the 2023 presidential elections and is only playing a game. "Let's be clear: Peter Obi knows that he can't and won't win," Soludo said. "He knows the game he is playing, and we know too; and he knows that we know.
"The game he is playing is the main reason he didn't return to APGA. The brutal truth (and some will say, God forbid) is that there are two persons/parties seriously contesting for president: the rest is exciting drama!
"That many Americans may not like the fact that Joe Biden (79 years) and Donald Trump (76 years) are two frontrunners for president in their parties does not remove the fact that if both of them emerge as candidates, definitely one of them will be president in 2024."
Soludo's lengthy article is currently circulating online. Peter Obi has not reacted to this declaration by Soludo.
JUST IN: President Tinubu Meets King Charles Of England (PHOTOS)
President Bola Tinubu convened a meeting with King Charles of England in anticipation of the upcoming COP28 Climate Action Summit set to be held in Dubai, United Arab Emirates.
News ToGo gathered that the President recently embarked on a journey from Abuja, Nigeria, en route to Dubai, the United Arab Emirates, to partake in the COP28 Climate Summit, also known as the 28th United Nations Climate Change Conference or Conference of the Parties of the UNFCCC.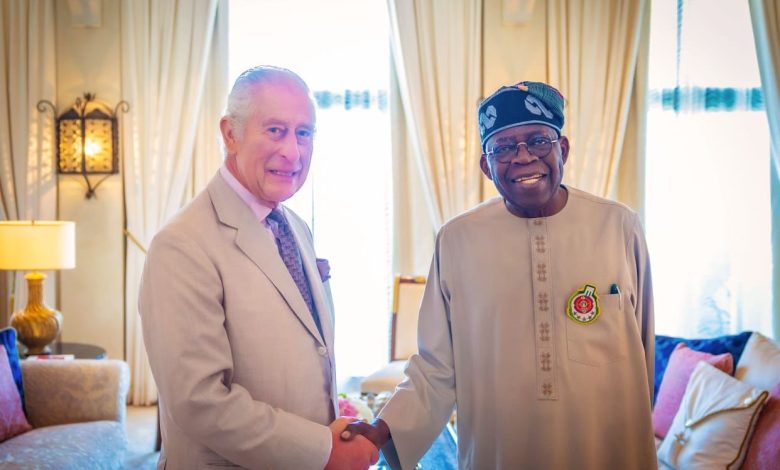 Ajuri Ngelale, President Tinubu's Special Adviser on Media and Publicity, had indicated on Tuesday that "Tinubu, who will be participating in the World Leaders' Summit on December 1 and 2, 2023, will deliver a national statement outlining Nigeria's position on various thematic issues, including renewable energy and climate financing."
During his sojourn in Dubai, Tinubu will actively engage in crucial sideline events that will further "support the advancement of his avowed commitment to aggressively attract foreign direct investment for enhanced wealth creation and revenue expansion in the country, in addition to other events hosted by the Nigerian delegation."
Ngelale further stated that the Nigerian delegation to COP28 will actively explore opportunities to establish new and deeper bilateral partnerships to facilitate the implementation of Nigeria's Energy Transition, Article 6 Projects, Internationally Transferred Mitigation Outcomes, Technology Transfer, Capacity Building, and Methane Mitigation initiatives.
Blow For PDP As Appeal Court Throws Away Case Filed By Its Candidate, Rules In Favour Of APC
The Court of Appeal in Abuja has thrown out the suit filed by the Peoples Democratic Party, PDP, candidate seeking to be declared winner.
News ToGo gathered that the Court also upheld the victory of Hyacinth Alia, declaring him the duly elected governor of Benue state.
Alia, a Catholic priest, secured the win in the March governorship election, amassing 473,933 votes as declared by the Independent National Electoral Commission (INEC).
Titus Uba, the Peoples Democratic Party (PDP) candidate in Benue, challenged Alia's victory by filing a petition. Uba alleged non-qualification against Deputy Governor Samuel Ode.
However, Justice Onyekachi Aja Otisi, in delivering the lead judgment, dismissed Uba's claims, stating that he failed to establish forgery of INEC Form EC9 by Ode beyond a reasonable doubt, as required by law.
The Court of Appeal addressed the nature of the allegation, emphasizing that non-qualification is a pre-election matter, which can only be contested at a Federal High Court and not at the Governorship Election Petition Tribunal, where Uba presented his case. Moreover, the court highlighted that a suit challenging non-qualification must be instituted within 14 days of the occurrence, a timeline not adhered to by Uba.
The court also addressed Uba's claim that the name of Governor Hyacinth Alia was not submitted to INEC by the APC within 180 days before the March 18 election. It held that this allegation could not stand, as the primary election producing Alia was ordered by a High Court and conducted within the stipulated period.
In the final analysis, Justice Otisi concluded that Uba's appeal against the Benue State Election Petition Tribunal judgment lacked merit.
4 Governors The Court Suddenly Sacked And Their Next Plans (FULL LIST)
Nigerian courts have delivered verdicts that led to the ousting of four state governors, just nine months after their elections.
News ToGo reports that the court decisions also deemed one gubernatorial election inconclusive. Below are details of the dismissed governors and the grounds for their removal:
1. Abba Kabir Yusuf (NNPP):
Election Background: Yusuf of the NNPP defeated APC's Nasir Gawuna, securing 1,019,602 votes against Gawuna's 890,705 votes.
Court Decision: The Election Petitions Tribunal invalidated Yusuf's election, declaring 165,663 votes as invalid due to lack of signatures or stamps on the ballot papers.
Outcome: The court ordered the revocation of Yusuf's certificate of return, instructing a fresh one be issued to Gawuna. The Court of Appeal in Abuja upheld this decision.
Next step: Yusuf plans to challenge the decision at the Supreme Court.
2. Abdullahi Sule (APC):
Election Background: Sule of the APC, the Nasarawa State Governor, faced a challenge from David Ombugadu of the PDP.
Court Decision: The Election Petitions Tribunal deducted incorrect votes added to Sule, reinstating votes reduced from Ombugadu, based on certified copies of polling unit results (forms EC8A).
Current Status: The Court of Appeal in Abuja reserved judgment on the case.
3. Dauda Lawal (PDP):
Election Background: Lawal of the PDP defeated APC's Bello Matawalle in the Zamfara State governorship election.
Court Decision: The Court of Appeal declared the election inconclusive, ordering new elections in two local governments. The court upheld Matawalle's claim of Lawal's invalid election.
Governor's Response: Matawalle, the Minister of State for Defence, is reviewing the judgment before deciding on the next course of action while Governor Lawal is optimistic he would win the rerun elections.
4. Caleb Mutfwang (PDP):
Election Background: Mutfwang faced a challenge from Nentawe Goshwe of the APC, alleging improper nomination procedures.
Court Decision: The tribunal dismissed Goshwe's petition for lacking merit. However, the Court of Appeal ruled that Mutfwang was not legitimately sponsored by the PDP, citing a failure to adhere to a court order.
Next Steps: Mutfwang is directing his legal team to submit an appeal to the Supreme Court, expressing optimism about reinstating his mandate.