Ngozi Okonjo-Iweala Attacked For Alleged Action Against Tinubu
Ngozi Okonjo-Iweala has faced attacks from some Nigerians over her alleged action against Tinubu.
News ToGo reports that the incident involving Ngozi Okonjo-Iweala happened as a fallout from the Global Trade Financing Pact. The event took place in France bringing World Leaders together to dialogue on investment and other related issues.
Okonjo-Iweala was at the event as the Director General of the World Trade Organization, WTO. She met and discussed with World Leaders. She also took pictures with them.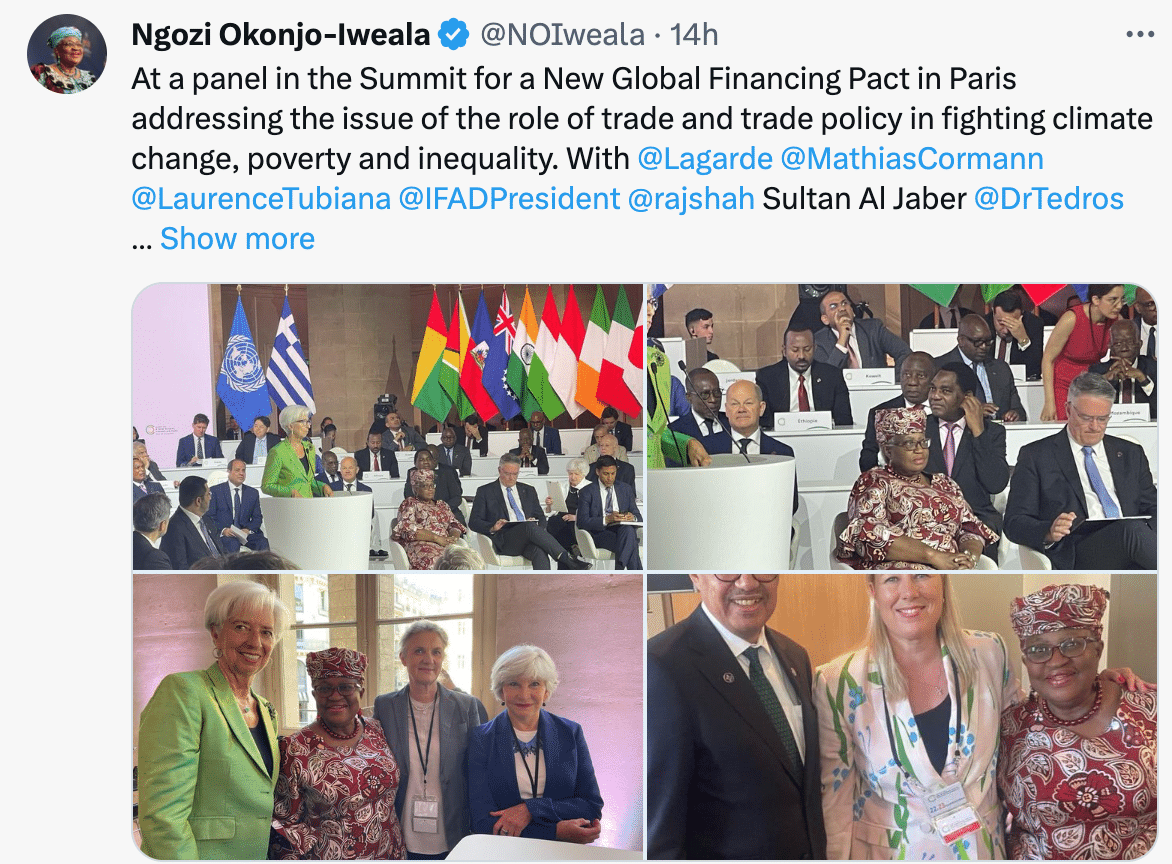 The WTO DG later shared some of the pictures on her social media handle in a bid to give an update about the event. That was how the issue started. Some Nigerians claimed that she shared her picture with other leaders but failed to meet, take pictures with President Bola Tinubu and share them.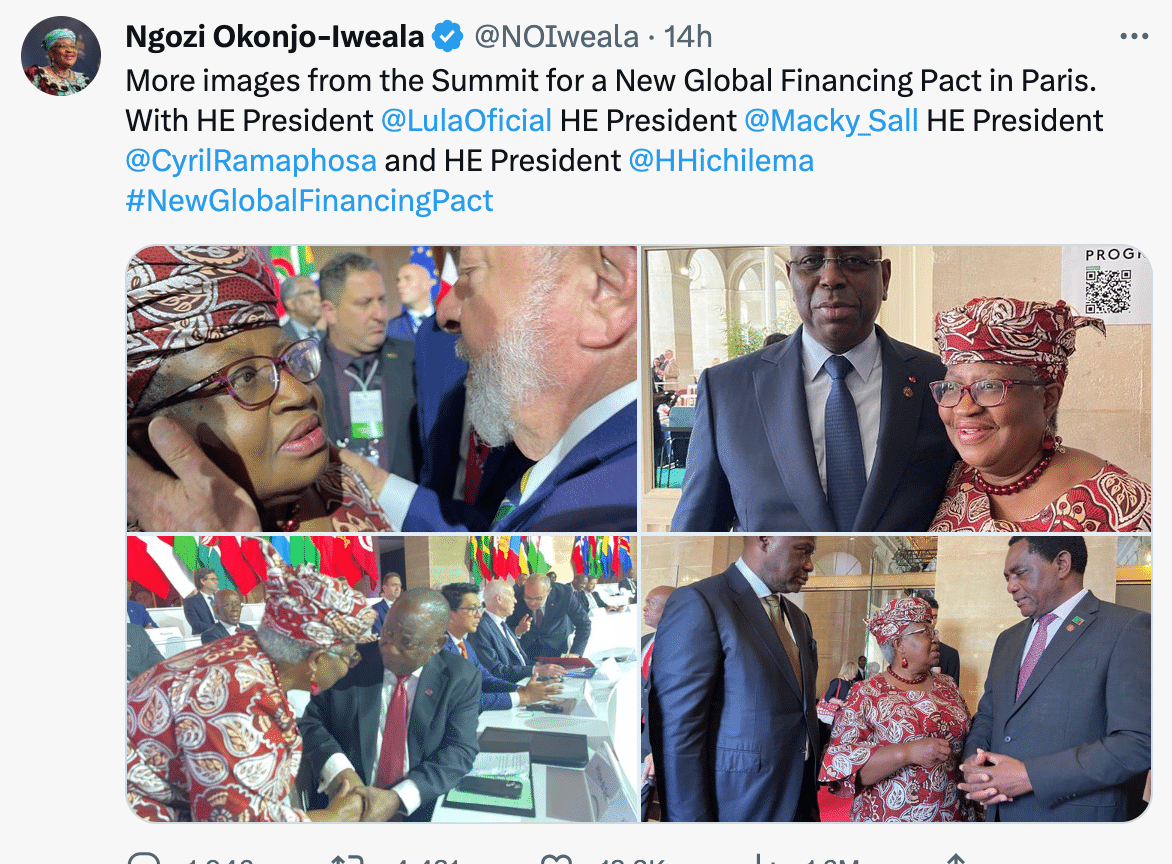 Many people have reacted angrily while attacking her for the alleged action. They claim that she snubbed her own President but flaunted she pictures with other Presidents. Some alleged that she forget that the ruling party helped her to win the top post at WTO. They threatened that she would not get the backing of Tinubu when her first term ends.
Read some reactions below:
@Spotlight_Abby wrote: "Agbado urchins are crawling all over this tweet thinking they can blackmail Aunty NOI into validating their mandate theft. As usual, they have zilch to say except abuse her for being Igbo. In fact, I'd have been worried if they could elevate the convo to d level of principles."
@ubig1 wrote: "Where is Tinubu, aka Bulaba?"
@GoziconC wrote: "APC made you what you are today, you wouldn't have been in this Position if not for the APC. You practically ignored the President of Nigeria to please your kinsmen, when your Tenure expires, I hope you go to your kinsmen for another Tenure"
@kejay_prince wrote: "Agbado supporters will accused you that is a deliberate act of you not to take a picture with Tinubu…you know they are trying to make him legitimate…your region might even take a stray bullet."
@AdeKlinsmann wrote: "Igbo people don't know how to hide their hatred and sentiment. This is a proof from madam WTO."
Meanwhile, Okonjo Iweala actually met and took a picture with Tinubu. She also shared the picture on her account.
BREAKING: Tinubu's Minister Who Collapsed During Screening Reveals Why
Tinubu's Minister who collapsed during Senate screening has revealed why it happened.
News ToGo reports that Abbas Balarabe, the newly confirmed Minister from Kaduna State, has clarified the reason behind his collapse during his Senate screening. He explained that his fainting spell was due to sheer exhaustion as he had been informed of his nomination just the previous day and stayed awake all night preparing for the screening.
Overwhelmed by the workload and lack of rest, he slumped during the session. He expressed his gratitude to the Senate, especially the senators from his state, Kaduna, for their understanding and support. Balarabe assured everyone that he was now in good health, emphasizing that his collapse was solely due to exhaustion and nothing more.
Earlier during his screening, the nominee, who had replaced former Kaduna state governor Nasir El-Rufai, had suddenly collapsed, causing a temporary commotion in the Senate.
BREAKING: Tinubu Makes New Appointments (FULL LIST)
President Bola Tinubu has appointed three new persons.
He wrote a letter to the Nigerian Senate to confirm the appointees as required by the constitution.
READ ALSO: CSU Finally Releases Tinubu's Record, Gender Raises Doubt
The new ministerial appointees by Tinubu are:
1. DR Jamila Bio
2. Balarebe Abbas and
3. Olawale Olawande.
The President had appoint over 40 Ministers before now making him the first Nigerian President with the highest number of Ministers. With the appointment of the three persons, the number of his Ministers would be around 50- a number no past President had matched.
BREAKING: CSU Finally Releases Tinubu's Record, Gender Raises Doubt
CSU has finally released Tinubu's records.
News ToGo learned that Chicago State University (CSU) has complied with a court order to release the academic records of President Bola Tinubu, as requested by Atiku Abubakar, the Peoples Democratic Party (PDP) candidate in the recent elections.
Following a directive from the US district court for the northern district of Illinois over the weekend, CSU provided the requested academic records.
TheCable reports that the university confirmed that the format of the certificate in question matched Tinubu's replacement dated June 27, 1997. However, the gender raises doubt. This is because Tinubu filled "Male" and the university in the new document addressed him as "Mr", but some transcripts reportedly show "F" which suggests "Female". This raises doubt in the issue.
However, Atiku and his legal team are following up on the issue after alleging serious discrepancies in Tinubu's academic records. They also claim that those inconsistencies will help them prove that he was not fit to contest for President of Nigeria.
Recall that Tinubu made serious effort to block the release of his records but the US courts ruled in Atiku's favour. Atiku and his legal team will now go ahead to prove their case concerning the inconsistencies they discovered.